How to Have a Good Day in South Central LA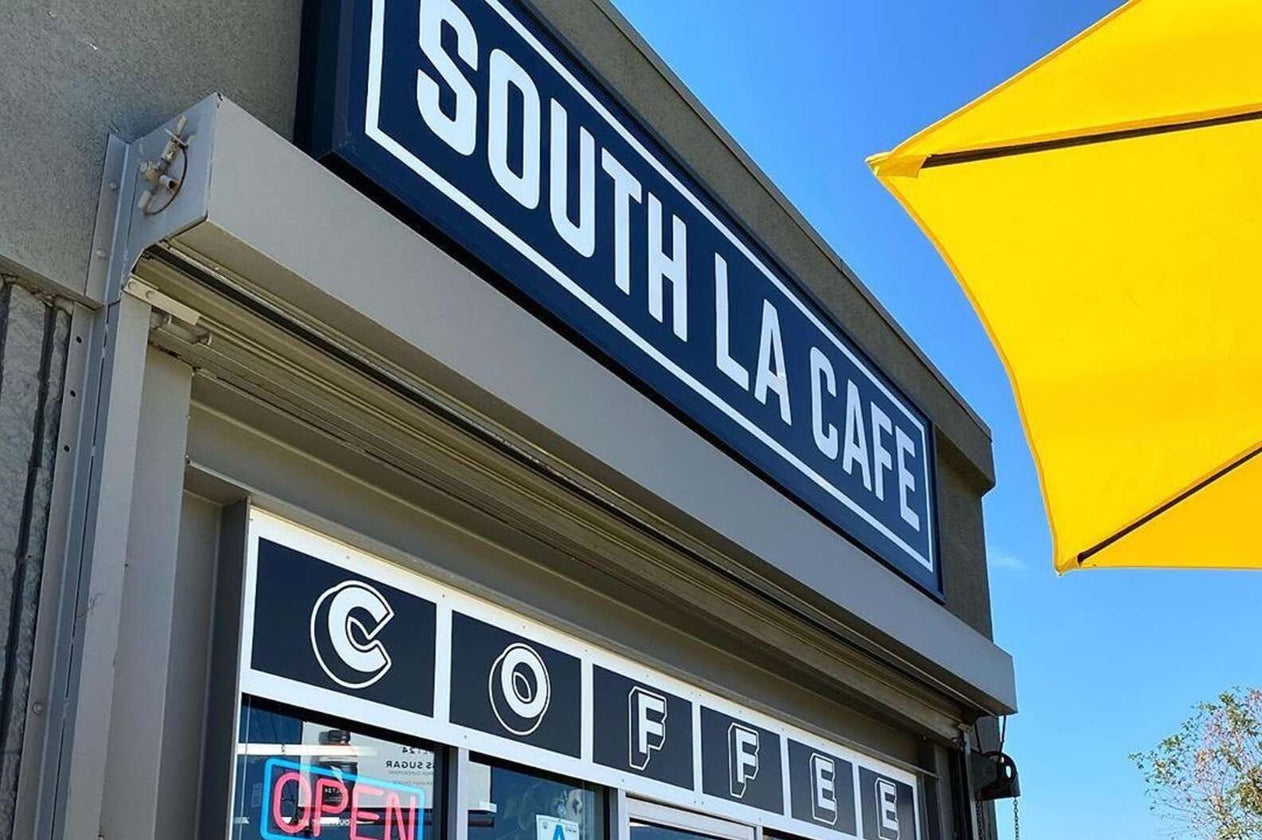 The internet is flush with theories about multi-hyphenate entertainer Ice Cube's hit song, "It Was a Good Day," and what specific date the rapper is referencing. In the song, the former N.W.A member describes an unusually good day in South Central LA, with notable events like a smog-free morning, Lakers' victory over the Supersonics, 2am Fatburger run, and of course, a personalized shoutout from the Goodyear blimp. By parsing out the lyrics and cross-referencing events, one dedicated fan deduced that Ice Cube's infamous day must have fallen on January 20, 1992, while another named November 30, 1988, as the date in question. But the joke's on all of us: several years ago, Ice Cube revealed that the song is fictional, merely his interpretation of what a good day in South Central LA might look like.
The truth is, crafting a good day—even a close-to-perfect one—in South Central LA is far less elusive than the rap song would lead you to believe.
A Brief History of South Central and Black Los Angeles
For many years, the name South Central served as an umbrella term for Black Los Angeles, which is perhaps why the boundaries of this neighborhood remain so difficult to define. The neighborhood that's now known as "Historic South Central" encompasses about 2.5-square miles, with the 110 Freeway marking a boundary on the west, Central Avenue serving as a border on the east, Washington Boulevard on the north, and Vernon Avenue on the south.
Los Angeles' Black community originally settled around what's now known as Little Tokyo, but began moving south at the turn of the 20th century. By the 1920s, wealthy Black residents began moving into the desirable—and historically white—neighborhoods of West Adams and Jefferson Park. Thankfully, you can still get a glimpse into their version of South Central through the architecture of Paul R. Williams, a celebrated Black architect who broke racial barriers, designing over 3,000 residences and buildings throughout his career, many of them in Los Angeles.
Paul R. Williams Residence | Flickr/Floyd B. Bariscale
9am: Take a tour of LA's Historic Black Landmarks
Of Williams' many historic buildings, you'll want to add First African Methodist Episcopal (FAME) Church, first founded in 1872 by former slave Biddy Mason, where Williams' was a lifetime member; the Golden State Life Insurance Company, once the largest Black-owned insurance company in the West; and Williams' own home in Lafayette Square to your agenda.
By 1940, about 70% of LA's Black residents were confined to the Central Avenue corridor—an area that served as the heartbeat of Black Los Angeles from 1920 to 1955, with booming jazz and blues scenes that helped birth legends like Charles Mingus, Etta James, Dinah Washington, Toni Harper, and Roy Milton. Many of these traveling acts performed in and stayed at the Dunbar Hotel. Originally called Somerville Hotel, it represented the nexus of Central Ave's jazz scene and is now a historic-cultural landmark with affordable housing for senior citizens. According to South Central historian DeMarco Smith, Central Ave held everything from Black-owned pharmacies to gas stations, movie theaters and more. 
The city's two segregated, all-Black fire stations—Fire Station no. 30 and Fire Station no. 14— were also located along Central Ave and remained active until the Los Angeles Fire Department was desegregated in 1956. Fire Station no. 30 has since been restored and now hosts the only free-standing African American Firefighter Museum in the United States.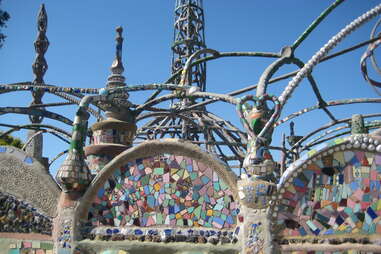 Watts Towers | Flickr/Paul Narvaez
12pm: Reflect on structures that symbolize hope in the community
Though South Central is home to some of LA's most notable Black history sites, the neighborhood also became a target as the city's Black population grew in size and influence. In the 1950s, new freeway construction reinforced existing segregation lines. Around the same time, William Parker became police chief at the LAPD, and during his 16-year tenure, he largely refused to hire Black officers and prohibited interracial relationships among his police force.
The police brutality that was routinely deployed against BIPOC residents while Parker was police chief is cited as one of the underlying causes of the 1965 Watts Riots that left 34 people dead and $40 million in property damage. You can pay respects to this history by visiting the Watts Stationand Simon Rodia's Watts Towers, two iconic structures that survived the wreckage and came to represent symbols of resilience and hope to the surrounding community.
An Ongoing Legacy of Art and Activism
Though the Watts uprising represented the city's worst unrest until the Rodney King Riots of 1992, it birthed a generation of future artists and activists who would go on to shape the neighborhood's creative evolution. 
In 1967, brothers Alonzo and Dale Davis founded the Brockman Gallery in Leimert Park, providing early exposure to now-renowned artists like Betye Saar, David Hammons, and John Outterbridge. That same year, TV producer Budd Schulberg founded the Watts Writers Workshop, which led to the formation of the Watts Prophets, a group of poets and musicians who combined elements of spoken word with jazz music to create a new genre that would later evolve into hip hop music.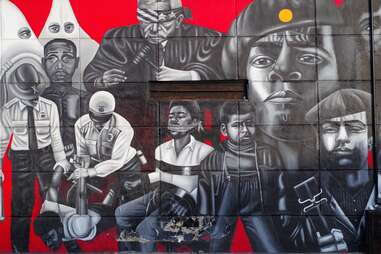 Neighborhood Pride Mural | Flickr/joey zanotti
3pm: Learn LA's Black history through street art 
For decades, art and music have served as tools for community empowerment and engagement in South LA. Though spaces like the California African American Museum (CAAM), California Jazz and Blues Museum, and Underground Museum remain closed due to the pandemic, the area is filled with street art that speaks to the struggles and triumphs of its residents. At the corner of 11th Ave and Jefferson Blvd, is "To Protect and Serve," a mural created in 1997 by esteemed LA muralist Noni Olabisi, that depicts the untold story of the Black Panther Party. At Jefferson Middle School, the "Education in Our Interest" mural was a collaboration between Olabisi and Black Panther Party organizer Charles "Boko" Freeman, which portrays the similarities between Black and Latino traditions and customs.
More recently, LA muralists honored the impact of South Central rapper, activist, and entrepreneur Nipsey Hussle who was shot and killed outside of his Marathon retail store in March 2019. In the aftermath of his death, several murals sprang up near his clothing store on Slauson Ave, including some by the brand's head designer Archer One. 
These days, a new crop of artists and musicians are carrying the torch, including artist/activist Patrisse Cullors, one of the founders of the global Black Lives Matter movement, who in 2020, co-founded the Crenshaw Dairy Mart with two of her USC classmates, alexandre dorriz and noé olivas.
Photo courtesy of Crenshaw Dairy Mart, led by Co-founder noé olivas, Lighting Up the Sky and Pray for LA, Installation prototypes, 2020-2021. Photographed by Darieus Morrow
By converting a century-old dairy mart into a contemporary art gallery and multi-use space, the trio hopes to bridge art and activism with programming that centers community liberation. As part of their commitment to the surrounding Inglewood neighborhood, the art collective took responsibility for maintaining Inglewood's newest community fridge, housing it at their gallery and keeping it stocked for locals in need. Their most recent initiative, #PrayforLA, is meant to grieve, mourn, and honor the losses of COVID-19, which have disproportionately impacted Black and Brown communities. The gallery is located in the direct path of incoming flights landing at LAX, and co-founder noé olivas used this position by creating a large-scale mural that beckons those who fly by to "Pray for LA."

Keeping it in the 'Hood
In recent years, lack of rent control, the expansion of the city's Metro line towards Crenshaw and LAX Airport, and the construction of Inglewood's new SoFi Stadium at the former Hollywood Park Racetrack, have led to widespread displacement and gentrification in South Central. The neighborhood even earned a new name: it's now referred to primarily as South LA, after a 2003 vote from LA City Council that was meant to help the neighborhood shed its former image.
One way that long-term residents are maintaining community ties and influence over their rapidly changing neighborhood is by investing in local eateries. This new league of Black restaurateurs are inspired by legacies like Fatburger, a now-global burger chain that was founded in 1947 by Lovie Yancey, and Mama's Chicken, founded by Elbert Hall, Jr. in 1964, as a small burger stand that's since grown into a restaurant and market serving some of the best fried chicken in Los Angeles.
6pm: Support local Black-owned restaurants 
Opened in early 2020, South LA Cafe's ethos is inspired by the Black Panther Party and their Free Breakfast for School Children program that inspired the federal SNAP Program. In addition to selling fresh, handmade items in their cafe and market, husband and wife co-owners Joe and Celia Ward host a grocery giveaway that's funded entirely by community donors and provides an average of 150 grocery boxes per week.
"As South LA natives, we understand the frustration of always having to leave your community to find fresh produce or a nice restaurant or coffee shop," Celia says, "We wanted to show that giving back to the community can be a joyful experience rather than a shameful one. At our grocery giveaways we're laughing, playing music, dancing. Our neighbors and our customers are our extended family."
\
For John and Roni Cleveland, the decision to take over ownership of the Post & Beam restaurant in 2019, was inspired by a similar goal.
"It's in the name," Roni hints, explaining that, "Post & Beam is an architectural term that means sturdy and resilient, and that's what we want to embody, always. We want the restaurant to be a pillar in the community."
John worked as a private chef and in Post & Beam's kitchen under former head chef Govind Armstrong prior to becoming co-owner of the Baldwin Hills restaurant. With the support of Post & Beam's original owner Brad Johnson, the Cleveland's have cemented the restaurant as a cozy yet refined destination for produce-driven Southern staples in South LA.
Boldly, Roni states, "We're here to stay. It makes me nervous to say with the pandemic and not knowing the future, but we've held on for so long and we're going to keep that strength going to make sure that we stick around. We've had the support of the community and that's really the only reason we're still here, so just as they've shown up for us, we're going to keep showing up for them."
Sign up here for our daily LA email and be the first to get all the food/drink/fun Los Angeles has to offer.